Join us for this webinar on 15/02/2023 at 02:00 PM
Did you miss the webinar, or you want to see it again? The recording is available here
A majority of flash purifications are performed on bare silica with simple solvent systems. But when your first choice for a separation doesn't work, what are your options for achieving a successful purification?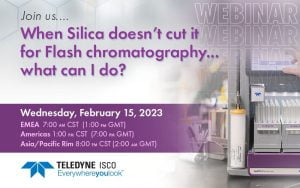 During this 45-minute webinar plus Q&A session, Joshua Lovell, Teledyne ISCO product line manager—Pharma R&D Products, will discuss several alternative stationary phases to silica (C18, C18Aq, Amine, C8, Alumina) that are available for flash purifications. He'll even include application examples of their utility. He will also discuss different tools on the CombiFlash® NextGen chromatography units that enable the use of different solvent systems.
You'll learn what range of stationary phases are available and how to choose appropriate stationary and mobile phases for tough separations.
You'll also learn how to use tools on the CombiFlash NextGen system that help expand the number of available solvents for flash separations and how to protect your investment with proper care of alternative stationary phase columns that are reusable, saving your lab money in the long run.
We hope you can join us for this educational opportunity to speak with chromatography expert Joshua Lovell about your specific applications. Just register here, and we'll see you then!