Join us for this new 15 minutes webinar, hosted by Radleys on December 15th and 16th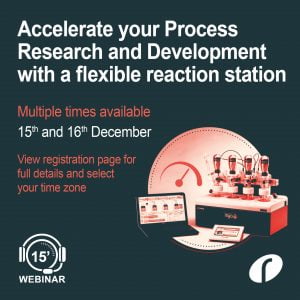 Accelerate your Process Research and Development with a flexible reaction station. In this webinar we'll show you how to improve reproducibility and eliminate time-wasted manually recording results with automated data logging.
An introduction to our automated Mya 4 reaction station: Gary and Nilesh will demonstrate how it can reduce set-up time and quickly be configured to suit your next project. Mya 4 can be set up quickly, and benefits from flexible and versatile configurations, easily meeting the needs of different applications and projects. This makes Mya 4 ideal for labs which have evolving projects or you need to react quickly to new demands.
There are several time slots. Take a look here