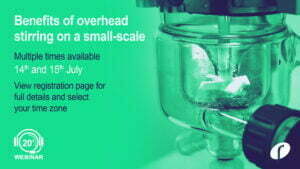 14 and 15 July 2021, choose the time that suits you best from the 5 possibilities.
In this very short webinar of only 20 minutes, Radleys will discuss the benefits of overhead stirring on a small scale.
Are you using magnetic or overhead stirring for small scale research and process development?

What's the difference and why does it matter?

What factors can be affected when moving from magnetically stirred reactions to overhead and how might this help improve your chemical development and scale up?
Register for free by following this link: https://bit.ly/3qFamY9